The Institute of Genealogy and Historical Research (IGHR) at the Samford University Library provides an educational forum for the discovery, critical evaluation, and use of genealogical sources and methodology through a week of intensive study led by nationally prominent genealogical educators. Students choose one of the offered courses that last throughout the week and that range from a course for beginners to courses on specialized topics.
The institute is academically and professionally oriented and is cosponsored by the Board for Certification of Genealogists. The faculty is composed of outstanding nationally known genealogy educators. Begun in 1962, the institute regularly enrolls over 200 students from around the country.
Please click on one of the above tabs for more information. Also, be sure to bookmark this site for information updates as they will be posted here first.
The 2015 Institute begins at
2:00 p.m. Sunday, June 7,
and concludes at 12:00 p.m.
Friday, June 12.
June 7-12, 2015

IGHR starts in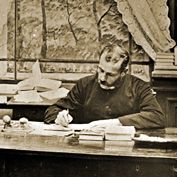 IGHR
Samford University Library
800 Lakeshore Drive
Birmingham, Alabama 35229

Director: Lori Northrup
Secretary: Eric Allen

IGHR no longer mails printed postcards announcing the opening date of registration. If you wish to receive announcements from IGHR (including registration date updates) please subscribe to the IGHR-L listserv.
This listserv is for announcements only; it will not be possible to reply to e-mails sent from it.

Sign up for e-mail updates