The Institute of Genealogy and Historical Research (IGHR) at the Samford University Library provides an educational forum for the discovery, critical evaluation, and use of genealogical sources and methodology through a week of intensive study led by nationally prominent genealogical educators. Students choose one of the offered courses that last throughout the week and that range from a course for beginners to courses on specialized topics.
The institute is academically and professionally oriented and is cosponsored by the Board for Certification of Genealogists. The faculty is composed of outstanding nationally known genealogy educators. Begun in 1962, the institute regularly enrolls over 200 students from around the country.
Please click on one of the above tabs for more information. Also, be sure to bookmark this site for information updates as they will be posted here first.
The 2015 Institute begins at
2:00 p.m. Sunday, June 7,
and concludes at 12:00 p.m.
Friday, June 12.
We regret to announce that due to changes in University policy we will not be able to offer on-campus housing this year. We will be working to establish group rates with our Event Hotels and enhance shuttle service to/from campus. Parking passes will be available for those who are driving to campus during the Institute.

Meal tickets will not be necessary this year. You may simply pay for your meals using cash or credit wherever you purchase them. Stay tuned for updates to meal options.
Your registration this year includes a boxed lunch on Monday and Tuesday of IGHR week. If you choose to eat off campus on those days, just let us know during registration.
Registration for IGHR 2015 will open at 11:00 a.m. Eastern Time (10:00 a.m. Central) on Tuesday, January 20, 2015.

A link to our online registration will be provided on the "Registration" tab at that time. Every year, some courses fill up in a matter of minutes, so be sure to be wherever you have your fastest internet connection at registration time. In the event that a course fills, links will be provided to online wait list forms.
To prevent an overload of the online registration system, the opening of course registration will be staggered with different courses being opened each half-hour.
Opening at 11:00 a.m. Eastern (10:00 a.m. Central):
Opening at 11:30 a.m. Eastern (10:30 a.m. Central):
Opening at 12:00 p.m. Eastern (11:00 a.m. Central):
Opening at 12:30 p.m. Eastern (11:30 a.m. Central):
Opening at 1:00 p.m. Eastern (12:00 p.m. Central):
We are pleased to announce that Judy G. Russell has been named the new coordinator of the Advanced Methodology course. More information will be posted on the website as it becomes available.
The cost of tuition has been updated and is no longer dependent upon the date of registration. More information can be found on the IGHR Tuition page.
Countdown to Registration
IGHR Registration opens in

June 7-12, 2015

IGHR starts in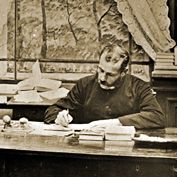 IGHR
Samford University Library
800 Lakeshore Drive
Birmingham, Alabama 35229

Director: Lori Northrup
Secretary: Eric Allen

IGHR no longer mails printed postcards announcing the opening date of registration. If you wish to receive announcements from IGHR (including registration date updates) please subscribe to the IGHR-L listserv.
This listserv is for announcements only; it will not be possible to reply to e-mails sent from it.

Sign up for e-mail updates